Summers are here and so are the infinite perks of this season. For some peeps, its' the summer clothes, while for others it's that time of the year when they can blissfully enjoy their pool parties. But for few – "Mangoholics" it defines the time when mangoes throng the market. As a nation, we are the largest producer of mangoes and it is the most important fruit of our country. We are blessed with abundant varieties but unfortunately most of us know only few of them. This summer we decided to educate ourselves about the varieties available locally in the markets of Mumbai.
Langra– The mother tree of this variety exists in Varanasi. Since the owner of that tree was lame, the mango was named as "Langra". Your local fruitwala will vouch for the sweetness of this variety and he is right. It is super soft and sweet. It has a typical fragrance and taste. It retains the greenish tinge even when ripe.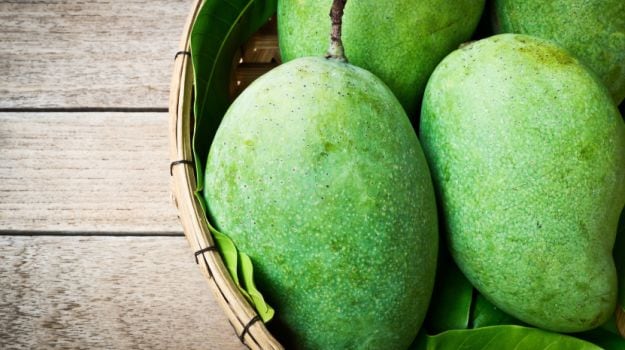 Safeda – this golden mango is the same color on the inside and outside. It has a smooth appearance and is easy to identify. The flesh is soft, fibreless and tastes a mix of  sour- sweet and it will overwhelm with its juiciness. It is also known as Banganapalli and is a produce of Andhra Pradesh.
Dusheri – This mango is woody on the outside and soft on the inside. An average mango which is best enjoyed by tearing off the tip and sucking out the sweet pulp and juice. One of the oldest varieties of mangoes available.Kesar – The best feature of this mango is its fragrance which is very typical of it and will engulf your home. The texture is exceedingly smooth. The flavor is surprisingly mild yet full, with a pleasant sweetness that lingers on the roof of your mouth long after you have finished relishing it. Used across Gujarat to make aamras.

Badami – Badami mangoes are also called as Alphonso of Karnataka state, texture and taste are quite similar to Alphonso Mango but not as expensive as the Alphonso.

Alphonso –  Last but not the least this variety is also known as Hapoos and is the most expensive variant of mangoes in India. Maharashtra, Gujarat and Karnataka are its prime producers. It has a fibreless pulp and melts into the mouth as a smooth-creamy mango. Maybe this is an overrated variant but Alphonso lovers swear by it and stay local to it.

Few of the above variants are not suitable for long storage in Refrigerators so it is ideal to catch them while ripe and eat them at its prime. Few variants also do not give away the measure of ripeness owing to their green colour.
Tray each variant but stay loyal 🙂